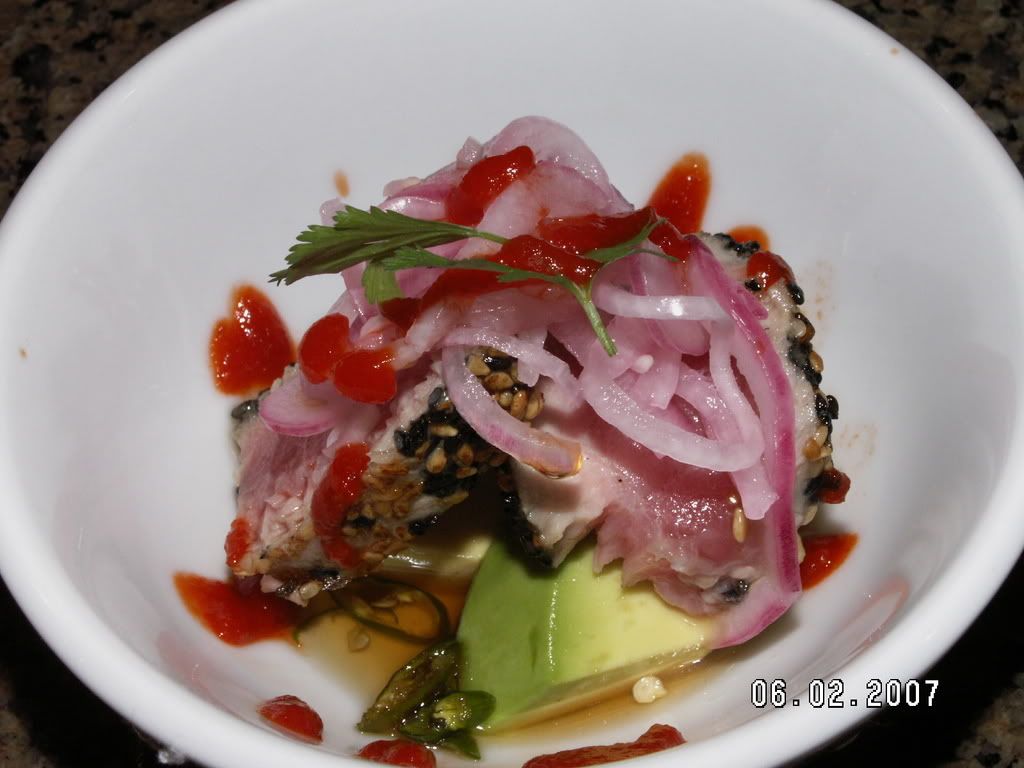 Welp, chef David and I did our first, of many we hope, private catering's last night. It was for a well-to-do family's 16 year old sons birthday party. What a house! Huge pad in a private gated community in South Charlotte.
The menu was an "Asian Tappas" theme that my chef buddy David put together. A whopping 9 courses! We prepped all the food and brought it over, Dave left and I took over. He had some private stuff to do with his family.
I arrived at 6:00 pm and set things up. There were to be a total of 12 people there. The 2 adults and 10 teenagers. The plan was for me to start cooking at 7:00 after everyone arrived. Well, 8 of the 10 arrived on time but two were over an hour and a half late! I couldn't get started on the cooking until they arrived :(.
So, I got started after 8:30 pm. The menu consisted of 5 apps, 2 main courses and 2 desserts. Everything was small and Asian style. From 'Black and White Sesame Crusted Tuna' (image shown) to 'Pan Seared Mahi' to 'Pecan Tuiles Filled with Vanilla Bean Ice Cream Topped with Fresh Berries Flamed with Grand Marnie'.
I scanned in the menu for you to check out (its been scribbled on for notes, lol)...
Finally broke down and left at 11:45 pm (at 75 an hour, that's pretty good loot :) ). Washed all the dishes today and back to work tomorrow. Was fun but took too long. Next time I hope to get done sooner. Still though, was a great experience and everyone seemed very happy.
*note, the crab cakes sucked, better crab later or I need to make them better :/.